With companies growing their workforces, human resource software programs have been essential to creating efficient policies and procedures. SaaS HR software ensures that no employee, whether a newly onboarded employee or a seasoned manager, is left behind. They help HR teams maximize internal team success and take organizational functioning to the next level. 
Product
Deployment
Business Size
Payroll Management
Time Attendance
Benefits Administration
Core HR
Applicant Tracking
Product
Paycor HCM
Business Size
Small, Medium
Visit Website
Product
BambooHR Software
Business Size
Small, Medium
Visit Website
Product
Deployment
Business Size
Paycor HCM
Visit Website
BambooHR Software
Visit Website
Paycor HCM
(4.10) based on 3812 reviews. Read full review
Paycor's intuitive, cloud-based software enables the management of all aspects of human resources, timekeeping, and payroll processing. It consists of cloud-based modules that can be accessed from anywhere, including mobile devices.
Visit Website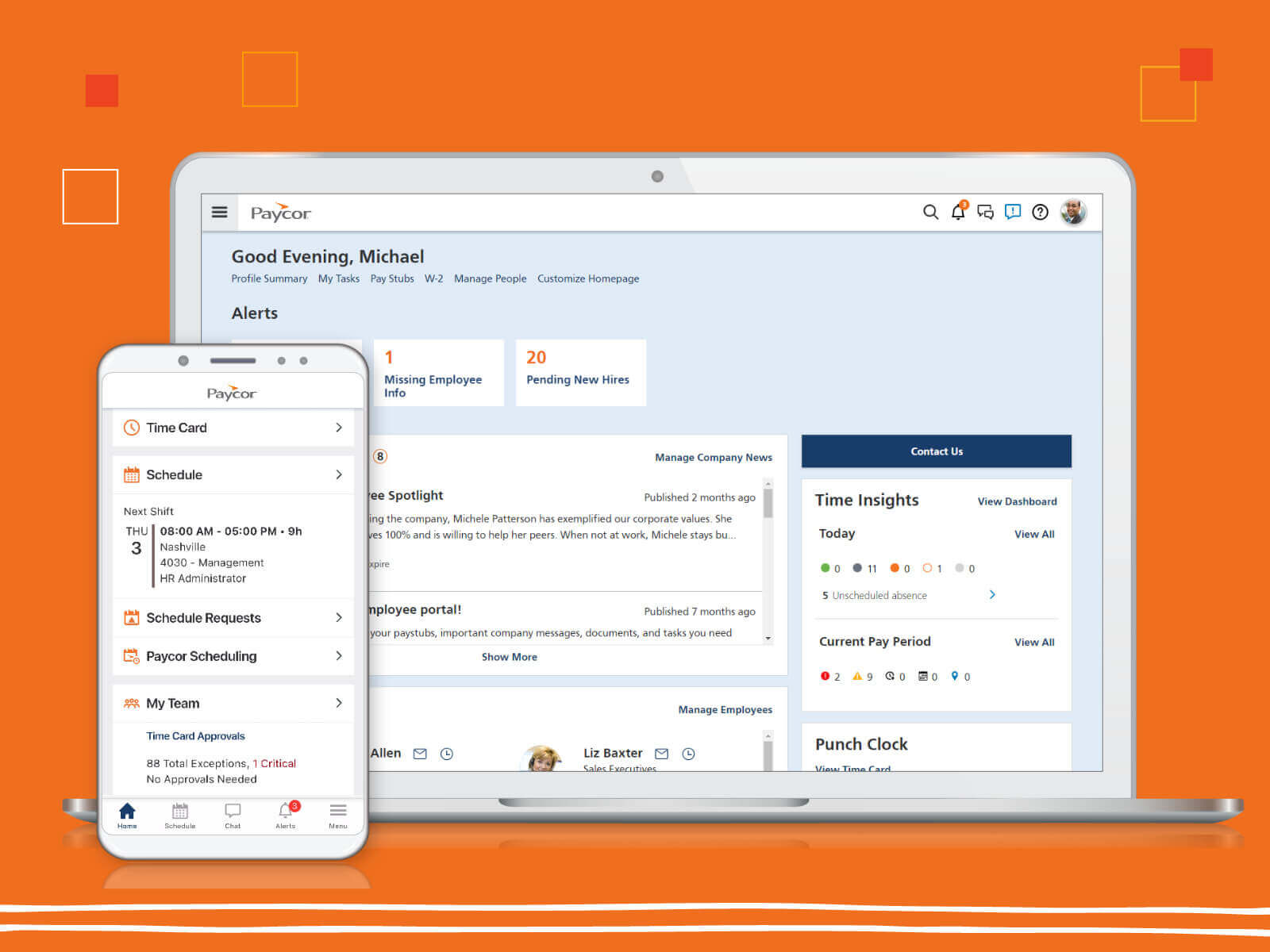 Paycor HCM Screenshot
Paycor HCM is a web-based platform that enables the management of employee and payroll administration in one application. The software includes modules for everything from applicant tracking and onboarding to payroll, benefits administration, talent management, expense management and more. Paycor HR software prioritizes customer experience and has both an intuitive user interface and robust customer support, including an online knowledge database, support via chat functionality, customer groups, and access to customer service representatives. Paycor HCM's employee self-service portal and mobile app help companies to improve employee experience. Paycor's unified experience features analytics and mobile-first functionality with flexible and scalable technology that grows with businesses. Companies can also more easily invest in employees with Paycor HCM's talent and learning management modules. Paycor HCM enables companies to manage and prioritize employees starting from the onboarding process.
Pro's & Cons
With its HCM tools, it saves time and money

User-friendly interface

Keeping track of up-to-date information

Employees have access to pay and timesheet information
Customer support

Reviewing certain data

Lack of visual personalization tools

Reporting

The mobile app interface is slow
Visit Paycor HCM
BambooHR Software
(4.60) based on 4211 reviews. Read full review
BambooHR is a comprehensive, online core HRIS/HRMS software solution that streamlines and centralizes employee information into a single database with instant, real-time alerts and reports. It offers secure and remote access to data so that employees
Visit Website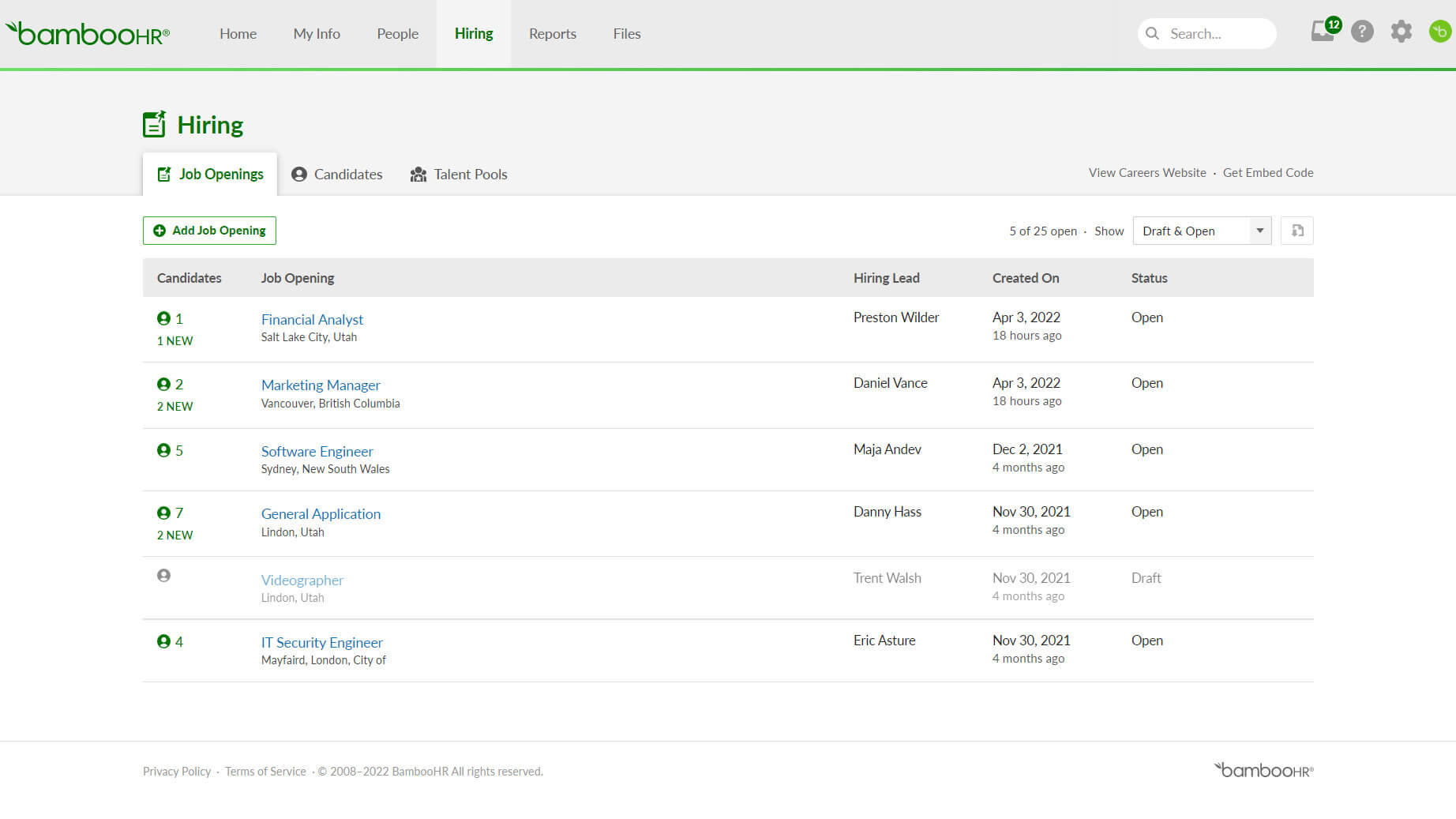 BambooHR Software Screenshot
The BambooHR all-in-one platform gives your growing organization the foundation it needs to build a thriving workplace now and far into the future. It brings together best-in-class solutions, capabilities, and integrations all in one place, with a single source of data. You'll directly impact the employee experience all while managing important tasks, workflows, and data solutions, functionality, and integrations to build now and into the future. By consolidating your HR software into a single platform, you are freeing yourself up to focus on what matters most—growing your people, improving the employee experience, and taking your business forward.
Pro's & Cons
Onboarding process

Integration with other programs

Payroll

Time Managing

Customizable
Some modules can't be customized

Time tracking

More precise search or names

Robust
Visit BambooHR Software
For 2023, Matchr has assembled a list of the best SaaS HR software for companies to consider.
#1: Sage HRMS
Sage HRMS is focused on investing in the success of employees. Their centralized software system includes a variety of focus areas including payroll processing, performance reviews, recruiting, workforce analytics, and the streamlining of employee onboarding. The goal of Sage HRMS is to eliminate data redundancy in HR and help small and medium-sized businesses focus on acquiring the most talented professionals for the job.
#2: BambooHR
Founded in 2008, BambooHR has been helping businesses thrive for over a decade. Their data analytics and mobile features for payroll, PTO, onboarding, and offboarding are what attract many teams to the services BambooHR has to offer. To invest in team development and employee engagement, the software uses its tools to collect real-time feedback from teams. To continue helping companies stay connected, BambooHR is integrated with other popular companies such as Slack and Indeed to streamline communication and collaboration.
#3: Namely
With a focus on people strategy, Namely works to eliminate the tedious tasks of HR so professionals can focus instead on higher-level management practices. In 2021, Namely was selected as the winner of the HR Tech Award by Lighthouse. They've continued to optimize their talent management system with features such as compliance and reporting, benefits administration, time tracking, and talent management. To top it off, they have HR analytics to help teams continuously improve their employee engagement strategies.
#4: Lattice
Lattice is known for its successful performance management tools. They use software insights to improve employee growth and performance within an organization such as OKRs and net promoter scores (eNPS). Creating high-performing teams is the primary purpose of Lattice. With high-performers, HR can foster and retain the success of professionals within their company and increase productivity in the long run.
#5: Culture Amp
Culture Amp practices what it preaches. They amplify company culture by using continuous listening tools to let employers and management teams get consistent, honest feedback from employees. Used by large corporations such as Canva and Etsy, Culture Amp has software insights to increase profitability and internal team innovation through the development of collaborative culture-building practices.
#6: Workable
Powered with artificial intelligence, Workable has a mobility portal and a candidate-sourcing feature to enhance recruitment practices for the remote, on-the-go workforce of today. Their SaaS tools have been used to hire over one million employees in the past decade, and it's only growing from there. They have highly standardized compliance and security procedures to connect with employees internationally and are able to find successful candidates, faster.
#7: Zenefits
The HR SaaS software Zenefits makes onboarding simple. They have an automated mobile app that includes functions such as benefits administration, payroll reporting and tax filing, people enablement, recruiting, and more. Zenefits works with over 10,000 companies and is continuing to emerge as a top platform for the next decade ahead. All the HR tools a management team needs can be found in the one-stop-shop of the Zenefits software.
#8: Cornerstone
Cornerstone is a customizable HR solution that continues to innovate and evolve to meet the needs of the current hiring market. Their company includes pre-designed company dashboards that can be personalized to meet different skill-set demands. With multiple human resource awards, Cornerstone prides itself on its AI workflow insights that help build smarter operational processes for all professionals in an organization.
#9: Gusto
As a cloud-based software, Gusto works for companies of any size. It has talent management tools, hiring optimization automation, and employee tax reporting operations. Gusto is known for its reliability as a service provider and its ability to reduce administrative work time for human resource professionals.
#10: Paycom
With top-notch payroll processing practices, Paycom helps companies easily implement transparent company compensation administration. The SaaS program lets employees individually access their payroll information so they can reinforce pay accuracy and time management. Paycom is user-friendly, complainant, and dedicated to employee-managed data.
#11: Workday
Workday is a cloud-based HR platform designed to be a hiring solution for innovative businesses across professional industries such as tech and the public sector. They have HR tools, as well as day-to-day financial management tools to maximize employee performance. As a company that utilizes advanced AI technology, Workday strives for adaptive planning to move companies forward to a high-performing future.
#12: Rippling
As a triple threat to finance teams, IT, and HR, Rippling uses its platform to help companies scale their remote workforce. The cloud-based software can integrate with thousands of employees at large corporations across the globe seamlessly. It has features such as talent management, payroll management, and virtual application management. To further enhance its software solution, Rippling also offers a digital training program for at-home work setups.